" People say cyclists should have bells on their bicycles - well in Devon we fit Horns!!




The 2008 Dartmoor Devil was another great success with 173 starting out of an entry of 219, amd 152 went on to finish at the Kestor In at Manaton.
- WELL DONE to all riders!!


RIM GREAPER





This free script provided by JavaScript Kit





THE 2008 DARTMOOR DEVIL

Again the Cromwell Arms in Bovey Tracey was the venue for the start. Breakfast and teas and coffees were provided for riders and at 8am the first group set off up Hind Street Hill in Bovey Tracey.
The rain soon began again, but it wasn't that heavy and was on and off for much of the day.

As the riders climbed Birchanger and Halshanger across to Ashburton the weather cleared a bit, but by Cross Furzes the rain was dripping again, however Lynda Swaynes cakes were available there and these raised evryones spirits.


Bob Legg & Andy Keast

Alan is charged up ready to go!


Signing in with Mr & Mrs Presland.
8 am riders departing.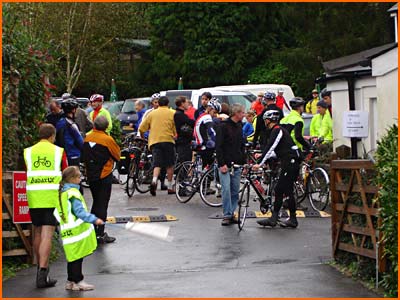 PHOTOS: Lynda Swayne
Hind Street photos courtesy of Kevin Bunclark